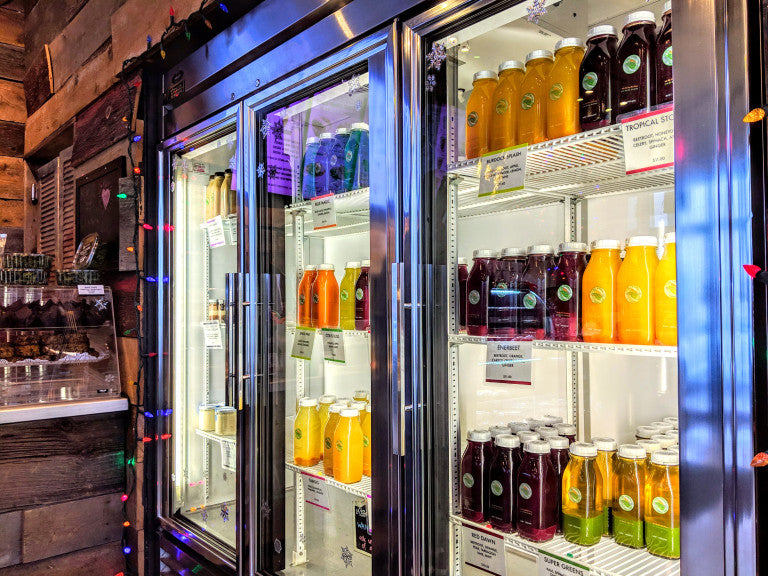 While we classified Revitasize as a juice bar, it is really so much more than that. Of course, the juice fridge is one of the first things to catch your eye upon walking in, stocked with a wide selection of yummy juices for every purpose. Some of our favourites include Burdock Splash (ginger, turmeric, and burdock root with a little kick from cayenne – a sweet and spicy juice that provides good, clean, anti-inflammatory energy) and Bloody Beet (beetroot, kale, parsely, spinach, apple, carrot, cucumber, and ginger – packing a great dose of antioxidants that improve memory function, strengthen the immune system, and slow down signs of aging). We also live by their booster shots (pictured below) – we down their immune boosters during flu season like there's no tomorrow (it has lemon, ginger, and oregano oil – VERY strong and honestly not great tasting, but we've come to know that when something tastes awful, it usually works. Trust us on this).
However, as we were saying, this is so much more than a juice bar. There are also delicious items with more sustenance if you're after a little more than juice. They have a good number of different smoothies, ranging from very green to very fruity, but all appealing to various palettes in different ways. One that we want to highlight is their new Keto Berry smoothie. This is a great option for anyone on the Ketogenic diet and is even Whole 30 compliant (aside from the fact that Whole 30 cautions against smoothie consumption – but the ingredients are compliant, and we'd say it would be acceptable in a pinch)! We have both personally had experience with both of these lifestyle regimens and know how challenging it can be to find something quick and easy to hold you over – much less something that actually tastes good. This smoothie tastes mostly like almond butter, but has a slightly sweet taste from the berries and overall smooth creaminess from the nut butter, coconut cream, and avocado.
If you're after a little more, Revitasize also has acai bowls, which affords you a blended acai smoothie topped with complementary garnishes. Our favourite is the Blue Majik bowl, which is as delicious as it is insta-worthy. The bowl has pineapple, banana, blue algae, and of course, acai. Blue algae is the special (ultimately flavorless) ingredient that turns the blended portion a lovely shade of blue and has a lot of positive impact on one's health (it's rich in vitamins and protein, could help prevent infections, and lowers inflammation, among other things). The Blue Majik bowl comes topped with banana, cacao nibs, pecan, strawberry slices, and pomegranate seeds, giving added creamy, fresh, and crunchy textures.
Revitasize has other bowls in a similar vein, but some are served on a base of coconut kefir (a vegan substitute for yogurt). We tried and loved the Jungle Coconut bowl (creamy, coconut-y, yet slightly tart kefir topped with banana, strawberries, kiwi and walnuts (it also came with trail mix, but we decided to omit that, along with the walnuts in favor of added blueberries). The fruit paired wonderfully with the coconut yogurt and we imagine that the nuts and granola would add a layer of complexity to the dish.
Those looking for something more savory should consider one of Revitasize's prepacked salads. We are big fans of the sweet, savory Bean Box (black eyed peas, chickpeas, lentils, kidney beans, shredded carrot, and pomegranate with lemon juice) as well as the Lean Green (candied pecans, roasted sweet potato cubes, spiraled carrots, red quinoa, and pomegranate atop a bed of baby arugula and kale – a healthy, but still comforting meal). For leafy salads, you also get to choose from a variety of dressings depending on your personal taste. On a cold day, or when you're feeling under the weather, Revitasize also offers a daily selection of soups.
Akin to the juice fridge, there are also fridges stocked with soups, kombucha, and other vegan delights like vegan cheesecakes, apple crumble, coconut kefir in a jar, and overnight oatmeal to go. Anyone seeking a better on-the-go option can also opt for a vegan breakfast cookie (some are known as "pucks" for their resemblance in size and shape to the star of Canada's favorite pastime) or muffin. If you're feeling snackish, hey also have cookie dough cookies, chickpea brownies, and various "power balls". Savory snackers might like Revitasize's own kale chips, that come in a variety of flavors including Thai ginger and mango curry. Grab one with a hot or cold beverage, like the turmeric latte. The latter can be made cold or hot and is a wonderfully comforting blend of cinnamon, maple syrup, and turmeric in a choice of almond or cashew milk. We tried this particular drink and it was delicious (it was even missing that characteristic "almond milk taste" that usually comes with the non-dairy beverage), although the bottom was grainy at the end.
Overall, Revitasize is great for anyone with dietary restrictions, but also for anyone looking to make better food choices that they will actually enjoy.